Description:
Patented galvanised steel regulation dampers, pitch 100mm with nylon rotation pins. They can be place in the regulation and in the balance of air flow and pressure, in the air conditioning and ventilation systems and treatments centres. This innovative damper, thanks to a special shaping of the frame and stopper of the fins, it guarantees considerable advantages:
1) Completely free air passage
2) Strong reduction of pressure drop
3) Strong reduction of self-generated noise. These shrewdness, combined with the particular plastic elements inserted at the ends of the fins, also guarantee a limited leakage of the air with closed damper. An innovative universal metal plate allows the application of all manual or motorized controls. The opening and closing of the fins takes place by a manual control placed on one side of the damper connected to an external lever system. The same movement can be achieved through a wide range of servomotors that allow a more precise adjustment of the passage of air in the duct.
Construction details:
1) Flanged casing
2) Slotted holes for fixing
3) Additional holes for fixing
4) Calibration fin
5) Lever system and pivot in nylon PA6
6) Control pivot
7) Universal plate for manual control or servomotor.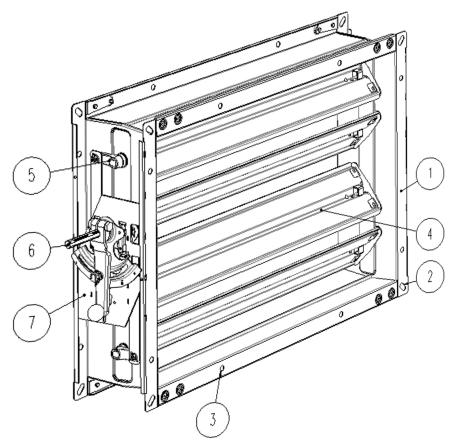 Constructive features:
Material: galvanised steel casing and fins control pin ø12 mm in galvanised steel pins for movement in nylon PA6
Installation: with bolts on slotted holes (detail 2) placed in the angle of the frame and on additional intermediate holes (detail 3)
Operating temperature: -20 °C/ +70°C
Available models:
• ETZC100P damper with opposed movement fins with pivot diam.12mm

• ETZC100C damper with opposed movement fins with manual control.
Models on request:
• ETZP100P damper with parallel movement find with pivot diam. 12mm

• ETZP100C damper with parallel movement fins with manual control.

• AISI 304 stainless steel damper, quotation on request.
EARG175K: manual control

BELIMO SERVOMOTOR: electric servomotor

ETZS1: plate for servomotors Belimo serie SM, GM

ETZS2: plate for servomotors Belimo serie NF, SF, EF
Nominal size:
For damper with length (L) > 1250 mm ≤ 2500 mm will be placing a breaker with thickness 30mm in central position.
For damper with length (L) > 2500mm ≤ 3000 mm will be placing two breakers with thickness 30mm with same distance. Dampers can have these maximum dimensions:
L ≤ 3000 x H ≤ 1500
L ≤ 2000 x H ≤ 2000
L ≤ 1500 x H ≤ 3000